Hitlerizing Space-Hero Felix Baumgartner
How Austrian Media Denounce Famous Skydiver Felix Baumgartner For Readership
Erstellt am 05.11.2012 von
Florian Machl
On October 27th, the "Kleine Zeitung" published a so-called "interview" with Austrian extreme athlete Felix Baumgartner, who became world-famous for his "Red Bull – Stratos" skydive. An editor of "Kleine Zeitung" Steiermark, Klaus Höfler (editor-in-chief "Wirtschaftsmagazin Primus"), adressed Baumgartner with exactly four questions covering a total of 32 words, starting with: "Is a change into politics an option for your future?". A subset of an answer motivated Mr. Höfler to publish his "finding" twice. In addition to the original interview, an extra article appeared in the chronicle section of October 28th. Based on Baumgartner's statement about a "moderate dictatorship", Austrian media extrapolated this into a desire for Hitler. The media seems to forget the fact that there is a person behind all of this – Mr. Baumgartner. The reactions caused seem to be commonly accepted collateral damage.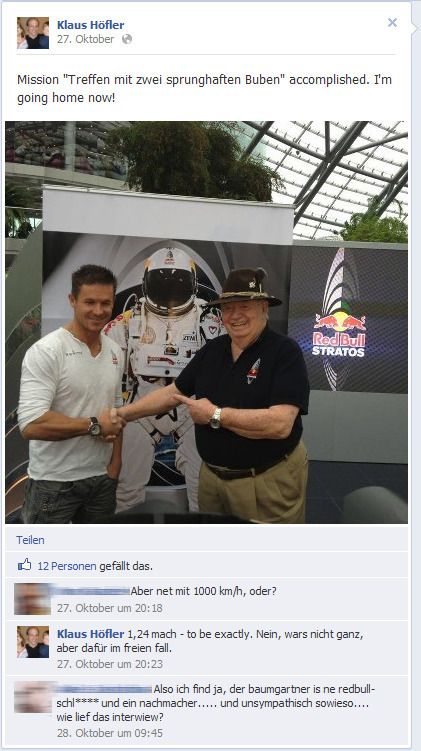 Critical distance of the journalist Klaus Höfler? To this day (5.11.2012, 18:00) you can read "opinions" on his Facebook wall like "redbull-schl****" – which directly translates to "redbull-a**hole". This is a direct comment under the posting which was proudly made by Mr. Höfler after his 32-words-interview. It served as the first shot in a negative media-campaign aiming to denounce the internationally celebrated extreme athlete Felix Baumgartner. (Image cited from Klaus Höfler, public posting on facebook).
The chronicle was titled "Baumgartner Wants Moderate Dictatorship". "Baumgartner: We Would Need a Moderate Dictatorship" was the headline of the interview. An intended scandal for the sake of readership? Why does "Kleine Zeitung", a daily newspaper known for high journalistic quality, operate in a style which we have come to expect from mundane yellow press media? The publication led to what was to be expeced after such headlines: All relevant Austrian media (meanwhile followed by several international media) followed the example of "Kleine Zeitung" word-for-word. Moreover, so-called "quality media" usually distinguishing with outstanding political correctness, made up additional details which were perfectly suited to ruin Felix Baumgartners reputation. "A Little Hitler" would be what Mr. Baumgartner desires – according to Mr. Hans Rauscher from "DerStandard". These remarks were not made within playful comments, but as headlines. On October 31st, Günter Traxler topped this claim in the same newspaper ("DerStandard" – by the way, Austria's second largest online newsmedia), headlining "'Super-Felix' Baumgartner on Sports and Dictatorship: Where is Room for Hitler?". Mentioning Hitler always guarantees readership. So does yellow press. Obviously, so-called "quality media" do not want to surrender this field to the yellow press. But to date, no one has asked the question: Where is legitimate journalism hiding? And then further: What was the real intention of Baumgartner's statement?
A self-satisfied corrective watches over the obligation to maintain mediocrity
Does this statement really justify the dismantling of a potential idol for millions of young people? The United Nations intended to appoint Baumgartner as Youth Ambassador for the organziation. Not very surprising, considering that this world has a shortage of peaceful role-models who inspire by reaching their aims through discipline and diligence. But in Austria mediocrity has silently become the ultimate benchmark. Where anyone who would otherwise strive to break out of the middle of the "ordinary people" to be "something special" needs to learn the power of the self-righteous journalists collective instead. An austere and highly intrinsically dynamic corrective assures that all heads alike remain where they belong: down.
To this end, a space-hero needs to be made a punching bag as fast as possible, as if to ensure that the average Austrian understands: There is nothing there to reach beyond mediocrity. An all-inclusive club holiday in Turkey, taking a walk on the beach between Bibione and Caorle and possibly a trip to the Ballermann on Mallorca must remain the greatest adventures in a person's life. Anyone who dares to aim higher than this will be slapped. Especially if someone has the nerve not to be perfectly (politically) educated to defy the carnivores of Austrian gutter press. A society driven by envy enables the applause of the audience.
When it comes to dictatorship as a catchword a holy proxy war is initiated
Maybe it is a question of culture and of respect. Compared to some social outsiders this very newspapers and their oh so morally correct authors always urge on both of these virtues. These rules do not seem to apply for Mr. Baumgartner and therefore expose previous sermons as hollow lip services of the alleged regular clientel. With keywords such as "dictatorship" (clear as daylight, Hitler!) a holy proxy war of the political left vs. right is called. All is fair in love, even if someone has to burn. At least, it's for a good cause. And along the way it opens the possibility of indirectly harming Felix Baumgartner's patron, Mr. Dietrich Mateschitz (the founder and owner of Red Bull), on this occasion. A person who also dared to rise above Austrian mediocrity. Unlike his protégé Baumgartner, he learned to be invisible from the public view and avoids standing in the line of fire of Austrian bush-league scribblers. Only recently, Mr. Mateschitz responded to a similar trick question very directly: "No, I could never put interests of a political party before objectively right decisions. I do not believe that your own achievements get better when you put down the achievements of others. I am neither a pathological liar nor an opportunist."
It is not a shame to derive from a humble background
This sophisticated eloquence is not a skill possessed by former car mechanic Baumgartner. A journalist exploiting such weakness could be easily exposed for the opportunism which Mateschitz declines. So when a man who hails from a modest background – like the majority of Austrians do (and who have nothing to be ashamed of) – expresses an idea like "moderate dictatorship", at least for me one question arises: What does that mean? This expression is neither to be found in any political science textbook nor in any dictionary. For a start, it is totally unclear what is to be understood by this definition. If one is truly interested in Felix Baumgartner's opinion, one could also deduce from this awkward wording the desire for a government of experts. This is also just an interpretation. Before a journalist uses interpretation, he is obliged to ask again to be sure, and to present the most objective way of reporting to one's readers. Failure to do so can indicate poor training or lack of interest. But it may also be – like in this case – in expectation of high readership. "He said 'dictatorship'! We will publish this without comment, the mob will take care of the rest. Thank you for your cooperation, Mr. Baumgartner, good bye and have a nice day."
Re-check with editor-in-chief Höfler
Unlike Mr. Klaus Höfler ("Kleine Zeitung", Editor-in-chief "Wirtschaftsmagazin Primus") I can be blamed not to write for a famous newspaper or journal, but at least I did not forget the basics of legitimate journalism. For example re-checking the original source. Regarding this article, I could do so directly with Mr. Höfler himself. It was perfectly clear to me that I would not get any answers to my questions. But this is not so bad. Because the questions in this didactic play for journalistic proportionality versus greed for readership can stand on their own.
Dear editor-in-chief Klaus Höfler…
… what lead you to conduct an interview with a personality, who was recently honored "bravest man in the world" by the UN Secretary General, consisting of only four sentences with a total of 32 words?
… did you prepare for this interview or were the questions made-up on the spot? In what environment did the interview take place? Written, as a phonecall or in person? Did you authorize the text prior to release?
… what do you think is a "moderate dictatorship"?
… do you believe that the definition of a "moderate dictatorship" is so commonly widespread that no further enquiry is necessary for clarification?
… regarding your longtime experience as a journalist, could you have foreseen the media's reaction to your interview?
… what quality to content, what new insights did you expect, when you decided to ask the former car mechanic Baumgartner a political question? Are there other car mechanics interviewed on political issues by "Kleine Zeitung"?
… what is your opinion of Mr. Rauscher's ("DerStandard" daily newspaper) allegations concerning "a little Hitler" based on your interview?
… do you believe that Mr. Felix Baumgartner actually wishes for a "little Hitler" reinstalled, or did he possibly use an awkward expression when attempting to fathom an expert government?
… what was the most important thing regarding your publication: the foreseeable immense media attention or the informational content?
Related Links


German text version of this article

Mr. Klaus Höfler, Kleine Zeitung


The interview, Kleine Zeitung – German


Chronicle, Kleinee Zeitung – German


Mr. Rauscher about little Hitler, derStandard – German


Mr. Traxler, derStandard – German


Dietrich Mateschitz about politics, Heute – German